Why You Should Care About Homemaking (as a 21st Century Woman)
---
---
It is still a little strange for me to think of myself as a homemaker. Isn't that synonymous with the 1950's and June Cleaver?
I don't look much like her, and I do other work besides managing a home, as a blogger.
When I quit my teaching job to be a SAHM six years ago, it felt awkward to put "homemaker" on my taxes as my career. It wasn't a title I had aspired to. It wasn't how I saw myself, even then.
Stay-at-home-mom? Yep, that's me! I had a baby. I quit working.
Homemaker? I don't own an apron, so …not really.
However, over the past seven years of being married and having "a home of my own" (including the years I worked outside the home, the years I didn't, and the years I worked from home), I have gradually gained a sense of purpose and vision for homemaking. 
It started off as a dawning understanding. Now it's a full-out passion.
Along the way, I've learned a lot from many godly women, including my mom and mother-in-law, as well as some favorite bloggers and authors. I love this quote by Jami Balmet at YoungWifesGuide.com.
In her post on How to be a More Effective Homemaker, she says,
You are a homemaker by definition. You are a homemaker if you are a woman. Whether or not you have kids. Whether or not you work outside the home. Whether or not you are married. You are a homemaker because God has designed your role to be a keeper of your home.
That made sense to me, and knowing that God designed me for this role motivated me to begin the process of exploring what it really means to "make" a home and why it matters eternally.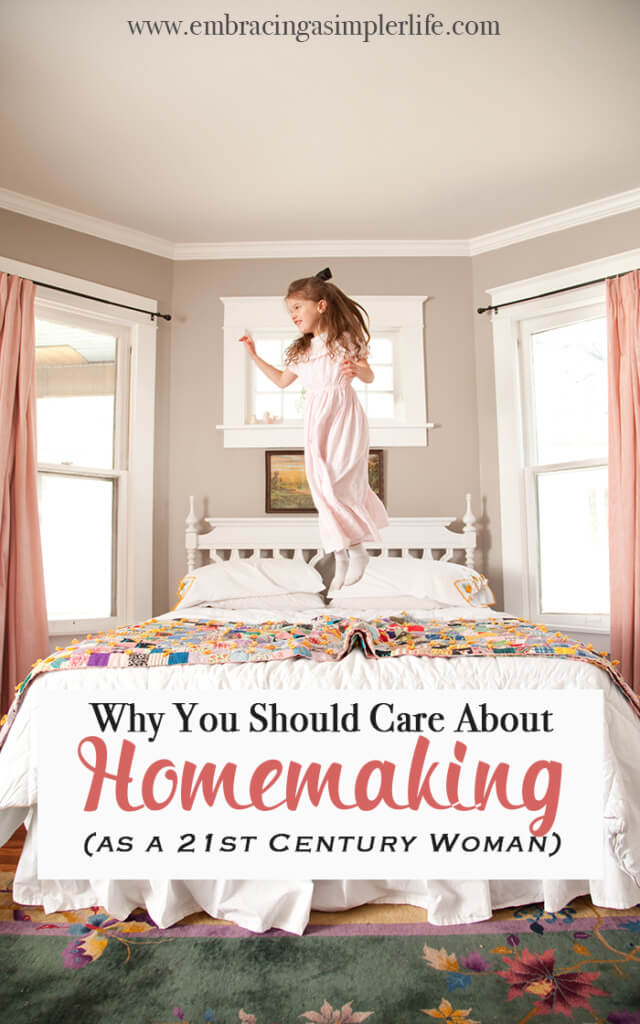 Why You Should Care About Homemaking as a 21st Century Woman
It provides a place for met needs
We get to literally give life to our families through our homemaking. That's a big deal! Through our hard work, they are provided with nourishing food, clean clothing, shelter and order.
Our homes meet the basic needs of those we are called to nurture and love.
Our families won't easily thrive when our homes lack the systems to ensure their needs are met. However, when we work at our homemaking with all our heart, as working for the Lord and not for man (Colossians 3:23-24), and when we devote our energy figuring out how to do this well, we give them a great foundation every day.
We should do that!
*If you struggle with maintaining a basic handle on your home, check out my eCourse. I created it just for you!
It allows us to express our God-given gift
As women, God has placed in us the ability and calling to craft a home. I believe Paul's advice to Titus is still good for us today,
"And so train the young women to love their husbands and children, to be self-controlled, pure, working at home, kind, and submissive, that the word of God may not be reviled." Titus 2:4-5
Even though I didn't initially see myself as a homemaker, as I slowly dipped my toe into this new way of thinking, I began to realize its merit.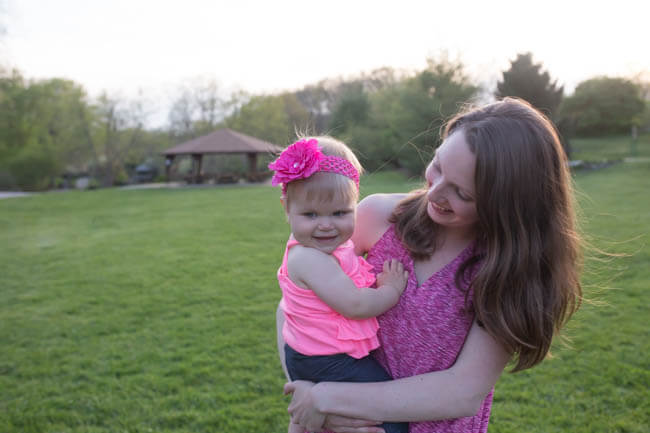 The work of it became fulfilling and motivating in and of itself! While I'm not a perfect homemaker, something in me was ignited as I began exploring this concept.
When woman was created, God gave her the name Eve, because she would be the mother of all the living. That "mothering nature" that is so definitive of our womanhood is closely related to homemaking. Through the making of our home, we are putting practical action to the tending of our children. And if we don't have children, we are exercising our nurturing nature towards whomever lives in our home, as well as those we invite in.
Homemaking is a good calling, should we choose to embrace it.
It provides a place of belonging and becoming for our families
…as Sally and Sarah Clarkson so eloquently put it in their book The Lifegiving Home.
This is where homemaking gets truly exciting for me!
Think about this:
God has given us a creative nature, that mirrors His own nature.
He has given us a mothering, nurturing nature as well.
He has created us such that, we will find satisfaction and fulfillment through hard work.
As Proverbs 13:4 says, "A sluggard's appetite is never filled,
    but the desires of the diligent are fully satisfied." 
We have the privilege, not only of meeting the physical needs of our families, but also of intentionally creating an atmosphere for them to blossom in every other way. In the practice of homemaking, all three of these foundational truths about womanhood and life come together in one single pursuit.
It's a beautiful thing.
As homemakers, we have the privilege of
creating structure and routine that will help our children learn the value of discipline and hard work.
fostering an atmosphere of encouragement, patience, grace and forgiveness
folding in prayer, a thankfulness to God, a love for His Word, and a steady stream of conversation about His ways within our homes.
Each of these are aspects of homemaking. They fill up our children's love tanks and provide a platform for them to learn who God is, and in turn, who they are. Our homes provide a breeding ground and launching pad for God's kingdom work. It's a mission field.
In this way, we create an atmosphere in which our families can be soaked in the goodness of God. 
---
Would you like to be more diligent in your role as homemaker?
I am excited to announce the official launch of a big project I had the privilege of being involved with over the past several months! It's called My Homemaking Mentor.
It was created by Jami Balmet, of YoungWifesGuide.com who I referenced above.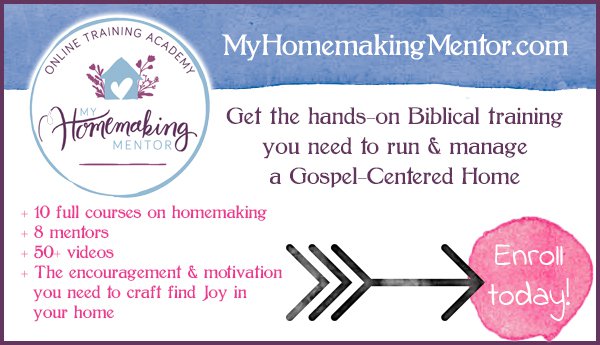 It is an online training academy comprised of:
10 distinct, video-based homemaking courses (with 5 more to be added)
8 amazing mentors to guide you through (I'm not calling myself amazing, but I am one of the mentors!) 🙂
A wide variety of personal growth topics ranging from homemaking routines, spiritual disciplines, establishing a minimal wardrobe, living each day with purpose and intention, cultivating a thriving marriage, building a healthy home, and much more!
The Bonuses
The academy comes with two awesome bonuses, including:
A cute printable Spiritual Disciplines Binder
Several sets of topical scripture memory cards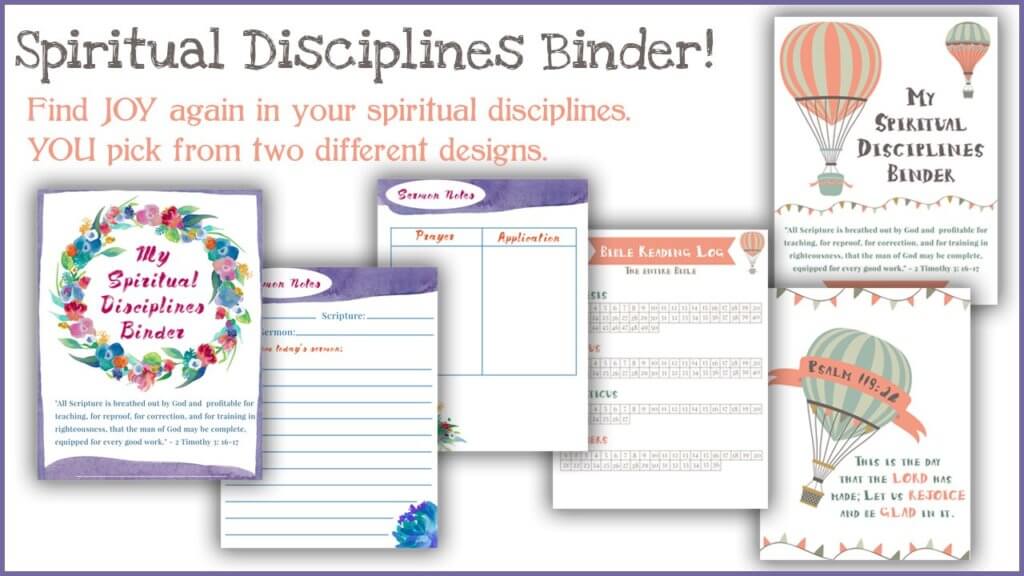 I am so excited about this academy! I believe it has the power to guide women forward into their calling as godly homemakers. Won't you join me?
Have you always been passionate about homemaking? Or is this something you discovered later (or have yet to discover)?
Simple & Worshipful Christmas Guide
A 3-part email series designed to set you free.