How I Stay Encouraged When the Work of Homemaking Feels Endless and Mundane
---
---
For those who participated, it's been a little over a week since we completed the Simple Homemaking Graces Challenge!
(This was a challenge to do some extra cleaning tasks and add some special little touches around our homes for five days in a row.)
My flowers are dead and gone, and the cleaning I did has pretty well been undone. I threw away the little note I left on the bathroom mirror because it was beginning to blend in with the furniture anyway, and I desperately needed to clean the mirror… again.
Isn't that how this homemaking thing goes?
We work to manage and run our homes, to bless and serve our families, and yet it's all a frustration to us as well, because it's all perpetually undoing itself. Forward progress is hard to come by. Tomorrow, we will have very little to show for today's toil; it must all be done again.
That reality can be a bit disheartening.
When I feel discouraged about the endless mundane tasks of homemaking, I find motivation and eternal value in Colossians 3:23-24.
It says,
"Whatever you do, work at it with all your heart, as though working for the Lord, and not for man. For you know that you will receive an inheritance from the Lord as your reward. It is the Lord Christ you are serving."
Each moment of whole-hearted work we accomplish, when it's dedicated to the Lord, is achieving for us an eternal reward.
The worldly fruits of our labor, which seem to be so quickly gone, are not the only fruits produced! In fact, we are storing up treasures in heaven that have unimaginable worth that will not fade or tarnish or be stolen.
I don't know about you, but that encourages me!
So if you struggle with motivation or discouragement in the daily work of running a home and or being a mom, can I challenge you to memorize Colossians 3:23-24? It's worth doing!
If you've never memorized a verse before, here's how I do it:
Write it out on a notecard of some sort.
Read it each day.
Study the first few words, and then try to say them out loud without looking.
Slowly add more words and continue reviewing over the course of several days.
And soon… Viola! You've got it memorized!
For Those Wanting More…
If you feel stirred to grow in your role as a homemaker, but you don't have anyone in your life who is mentoring you, OR if you are hungry for Christ-centered resources to push you further, I have an exciting opportunity for you!
My friend Jami Balmet (at YoungWifesGuide.com), has put together a training academy for Christian Homemakers called My Homemaking Mentor.
This is a suite of 10 gospel-centered, video-based homemaking courses on a wide variety of topics, taught be 8 individual mentors, with 5 more classes to be added in the coming months!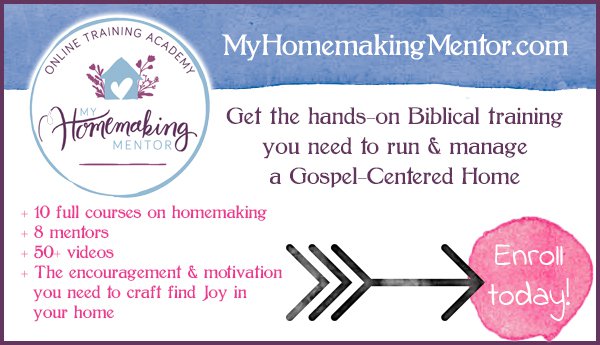 It is a wealth of guidance and wisdom and any woman who desires to grow as a homemaker.
Courses cover topics like: establishing routines, living intentionally, crafting a minimal wardrobe (taught by me), creating a healthy home and much more!
Plus there bonuses, including:


How do you stay encouraged in your homemaking?
Simple & Worshipful Christmas Guide
A 3-part email series designed to set you free.