Homemaking with Purpose (on Purpose)
---
---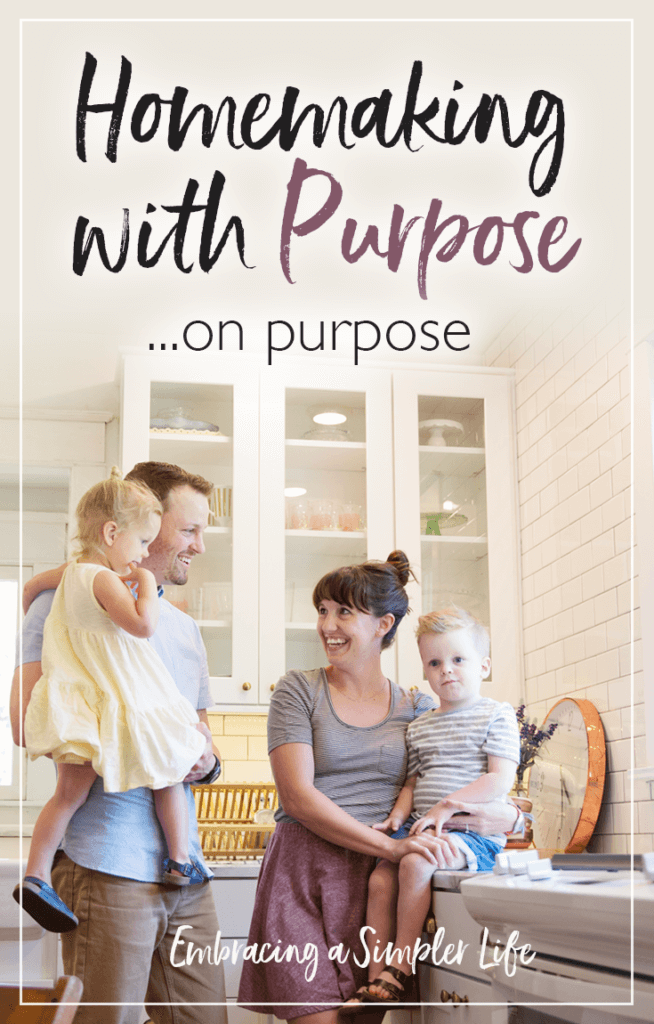 Did you know that God is up to something eternal in the midst of your homemaking?
It's true!
Stay-at-home-moms of little children, you don't need to get them into school in order to start doing something purposeful with your life. You're already doing it!
Working women and moms, you don't need to wait for life to be simpler to live in the warm rays of eternity and abundance. You are here now.
Childless housewives and empty-nesters, children are not the crux of purpose, the Resurrection is. God is up to something, and you are part of it!
What does it look like for the making of a home matter eternally? Well, when you know your purpose, you can live out of that place. Instead of resenting work, we will embrace it for the sake of the kingdom of God.
Here's what I mean…
We work hard for God's glory
You may have noticed by now that there is no "arriving" at a clean and perfectly put-together home. We live in the reality of the curse that God decreed over Adam and Eve as a result of sin. Our work is perpetually frustrated.
No sooner is the laundry done then there are five new sets of clothes to be washed (at least in my household).
No sooner is one meal cleaned up than someone tells me they are hungry.
No sooner do my cleaning supplies reach their resting place, than a child press her sticky hands and sweet little face against the window to admire a passing butterfly.
Romans 8:20-21 says,
"For the creation was subjected to frustration, not by its own choice, but by the will of the one who subjected it, in hope that the creation itself will be liberated from its bondage to decay and brought into the freedom and glory of the children of God." (NIV)
Creation was subjected to frustration so that it may be brought into the freedom and glory of the children of God. As children redeemed by the blood of the lamb, Jesus Christ, we are live in a glory and freedom right now, even in the midst of decay. Though we are bound up in this world in one sense, in another sense we are citizens of a heavenly kingdom, we are redeemed.
Our Heavenly Father infuses our work in this world with great hope and eternal purpose. He says these words (which completely changed my homemaking when I re-read them with an understanding of futility),
"Whatever you do, work at it with all your heart, as working for the Lord, not for human masters, since you know that you will receive an inheritance from the Lord as a reward. It is the Lord Christ you are serving." Colossians 3:23-24 (NIV)
When we work hard for God's glory He brings eternal meaning into our futile efforts. He tells us we will be receive an inheritance as our reward. Our diligent, unacknowledged laboring is achieving for us an eternal glory. That is no small promise! 
We create order and cultivate beauty
Beauty, creativity, order… these are God's idea! He created this world with every possibility that we now enjoy for design, color, and splendor. These gifts reflect His very nature, and when we enjoy and express creativity, we are acting as we were created to act, in His image.
When we decorate and design our homes as an offering unto Him, as an expression of who He is, He is glorified! Of course we should not be prideful or vain or wasteful, but we should enjoy and express God's goodness.
We show love
There is nothing, nothing in this world more purpose-saturated than love.
1 Corinthians 13 says it strongly,
"If I give all I possess to the poor and give over my body to hardship that I may boast, but do not have love, I gain nothing." (1 Corinthians 13:3, NIV)
If we have the most consistent cleaning schedule, with all our laundry always done on time, home-cooked meals every night, and well-tended flower beds, and if we show hospitality to others, but do it for a reason other than love, it is utterly meaningless.
Because this world and all it holds is passing away.
Pride and personal glory are as fleeting as the flowers of the field, here today and gone tomorrow. But love, love tips the scales. When we love God with all our heart, soul, mind, and strength, and when we love our spouse, child, friend, neighbor and enemy with an outflow of HIs love in us and allow it to fuel our actions, the simplest of tasks becomes the most gloriously significant.
Where there are beautiful homes, they will cease, where there the admiration of others, it will pass away, as one day very soon we stand before the judgement seat of Christ.
And then, "these three remain, faith, hope, and love. And the greatest of these is love." (1 Corinthians 13:13)
Yes, your homemaking has deep-rooted, rich, and abundant purpose, should you chose to embrace it. Don't wait!
How do you live purposefully as a homemaker?
Do you desire to be equipped as a godly, purpose-driven homemaker?
I can't believe the Homemaking Ministries Online Conference is just around the corner! It runs all NEXT WEEK: Monday, September 25th through Friday the 29th!
I have been looking forward to this for months!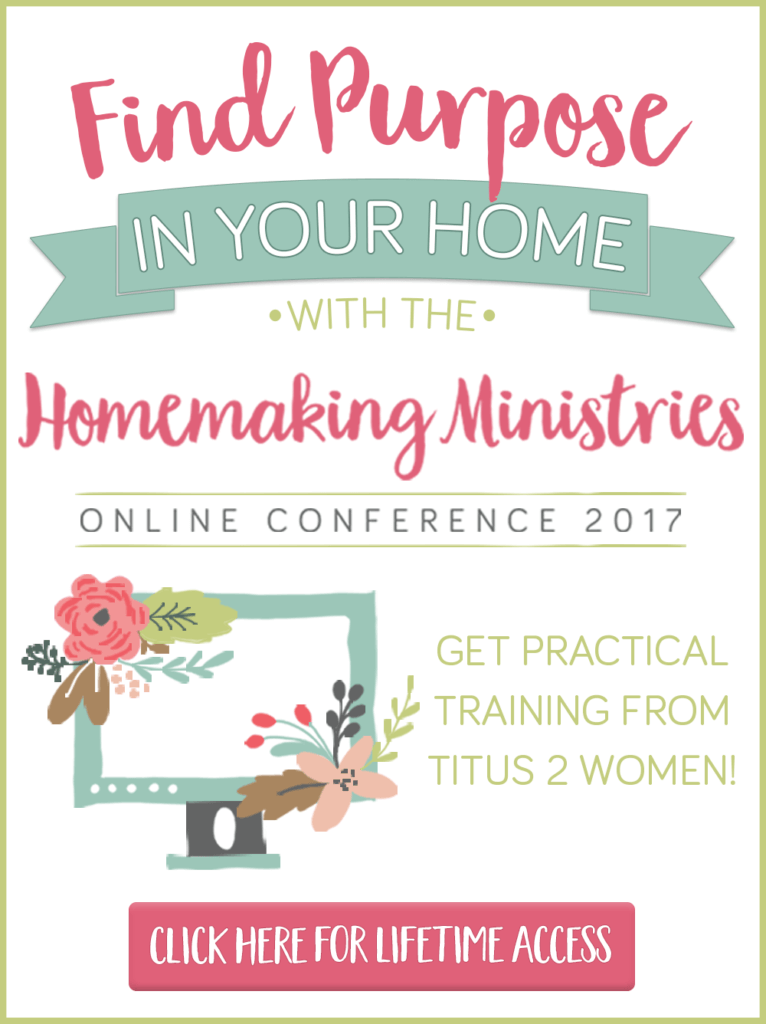 It is an online conference for women who desire to be encouraged and equipped in their role as homemakers (oh, and have a little fun too!)
Over the course of five days, 23 different speakers present video talks, which are then followed up with live interactions in our private Facebook group. It is a great way to connect with speakers directly to share stories and ask additional questions.
5-6 sessions air each day, but of course you won't be able to attend all of them live. You can watch them at any time, forever. You will have lifetime access to all sessions. I love listening to these as I do household chores. It makes them so much more fun. 🙂
I am honored to be one of the speakers for the fourth year in a row. I'll be talking more about my passion: how to have a Heavenly Minded Home (in other words, how to apprehend eternity, right where you are).
Find out the speakers and register HERE.
Also, you won't want to miss the live Facebook kickoff pajama party this Sunday night! 
The Bonuses
When you pre-register for the conference (it costs just $59.95 to attend, which breaks down to only $2.22/session), you will receive several high value bonuses.
These include:
A printable, digital conference notebook
Access to our private Facebook group
Bonus eCourse: Essential Ingredients to a Thriving Home (a $67 value!)
Live discussion with speakers
Fun surprise bonuses along the way!
The conference starts in…

Get your ticket now!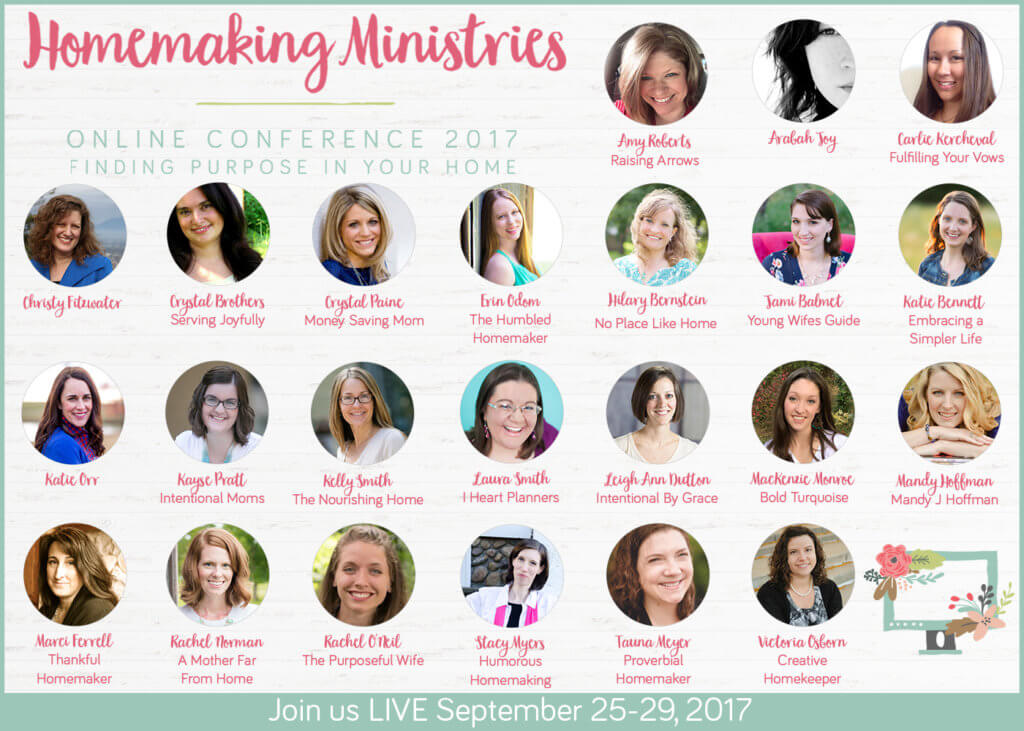 New to this community?
Start here, friend.
Simple & Worshipful Christmas Guide
A 3-part email series designed to set you free.