The Heavenly Minded Mom Online Course is HERE!
---
---
There is a message that I feel especially passionate about sharing. It's for moms. It's for women. It's for all people, but I know it best in my own context.
It has to do with living simply, but really, it's inexplicably deeper than that.
Perhaps Isaiah 40 says it best:
A voice says, "Cry out."
And I said, "What shall I cry?"
"All people are like grass,
and all their faithfulness is like the flowers of the field.
The grass withers and the flowers fall,
because the breath of the Lord blows on them.
Surely the people are grass.
The grass withers and the flowers fall,
but the word of our God endures forever." (NIV)
A few years ago, God began the process of opening my eyes to truth –that many of the things we devote our lives to are utterly meaningless, simply because they will not last nor be remembered.
When we grasp at the world, we grasp at smoke in the wind. This is a tragic pursuit when the eternal is at hand, right here, today, in our very midst.
The truth is, though this world is passing away, there are things that will remain. Things that matter in this life and in the one to come. It starts with our hearts, with wisdom, and with truth. It starts with eternal perspective.
As I've learned to shift my focus from the world I see to spiritual realities, everything has changed for me.
This perspective has been my undoing.
It has me set free from many things that once entangled me and taught me to lay down my life, forsaking it to follow Jesus.
I've communicated this passion in many different ways through my blog and email list, but now, I'm striving to do so more effectively than ever through the Heavenly Minded Mom online course.
Through this course, I want to take you on a journey. Walk with me as I teach you how to see the world in light of heaven. Allow truth to till up the soil of your heart and cultivate the seeds of eternity. This is the "why" behind embracing a simpler life, and we must start here or all our efforts for simplicity and meaning will ultimately fall flat.
The Heavenly Minded Mom online course is all about…
setting our hearts on heaven, throwing off the things that entangle us, and running the race with perseverance as moms
seeing things as they truly are, and choosing to store up treasures in heaven rather than wasting our lives chasing after the wind
realizing the ridiculousness of our idols and being cut free from them by truth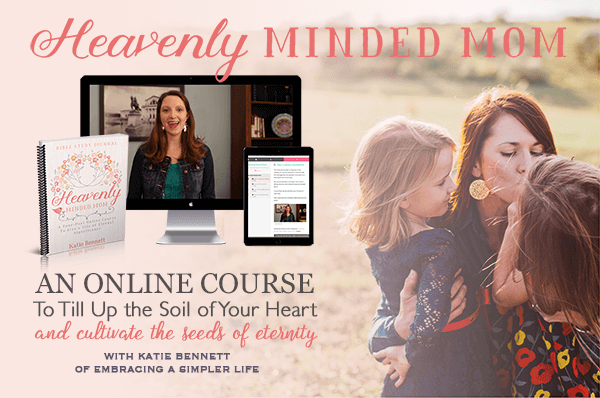 This course includes:
4 individual lessons
15-20 minute video teaching with each lesson
Daily Bible reading assignments
Beautifully designed printable Bible study companion journal
3 eternal perspective coloring sheets to help you continue meditating on God's word

Enroll now for $10! The Heavenly Minded Mom online course
Note: I tried to make this course really affordable, BUT there are scholarships available! If you can't swing $10 right now, I totally get it. Just shoot me an email and let me know!
Because this is launch week, there some extra special things going on!
The Limited Time Bonus
When you enroll in the Heavenly Minded Mom online course by Monday, June 12th, you will get access to a two week guided Facebook group with bonus content!
Between June 13th through June 23rd, I will be doing four live video sessions to answer questions and add further discussion to each of the four lessons in the course. These will happen on Tuesdays evenings and Fridays afternoons.
You will share your takeaways and questions right in the group! I am really looking forward to walking through the course with you!
Enroll today to take advantage of this time-sensitive bonus! 

The Facebook Party
We're also celebrating this launch with a Facebook party!
EVERYONE is invited to come hang out at the Embracing a Simpler Life Facebook page on Sunday night, June 11th at 9pm Eastern (6pm Pacific). It will be fun-filled hour, complete with discussion, community, hundreds of dollars in prizes, freebies and… fun!
This is one of my favorite ways to connect with and get to know Embracing a Simpler Life readers! I hope you'll come!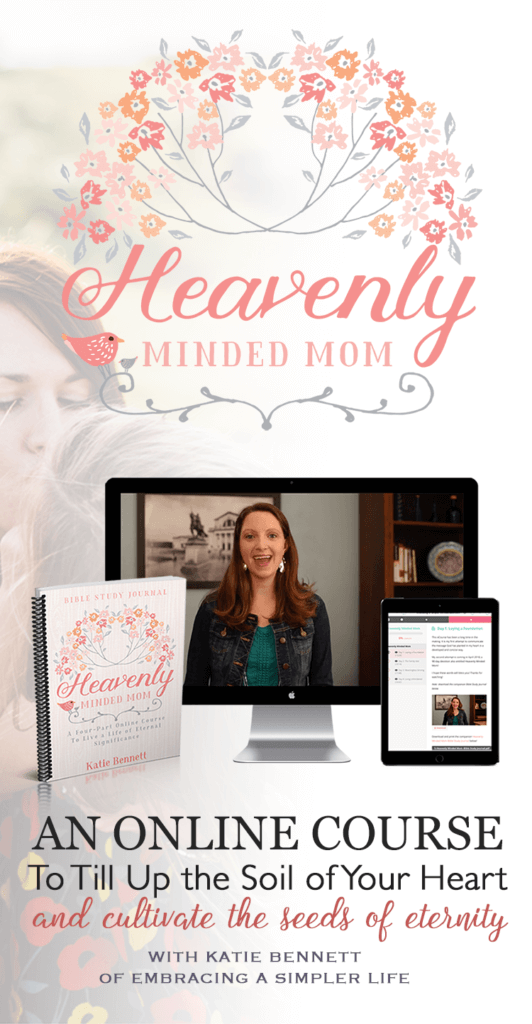 Simple & Worshipful Christmas Guide
A 3-part email series designed to set you free.