The Circuits of Life: Reflections from Ecclesiastes
---
---
My husband and I recently returned from Maine where we celebrated our fourth anniversary. In the midst of enjoying great adventures together, delicious meals, late night talks, and catching up on sleep, I spent a lot of time along the coast reading one of my favorite books, Ecclesiastes.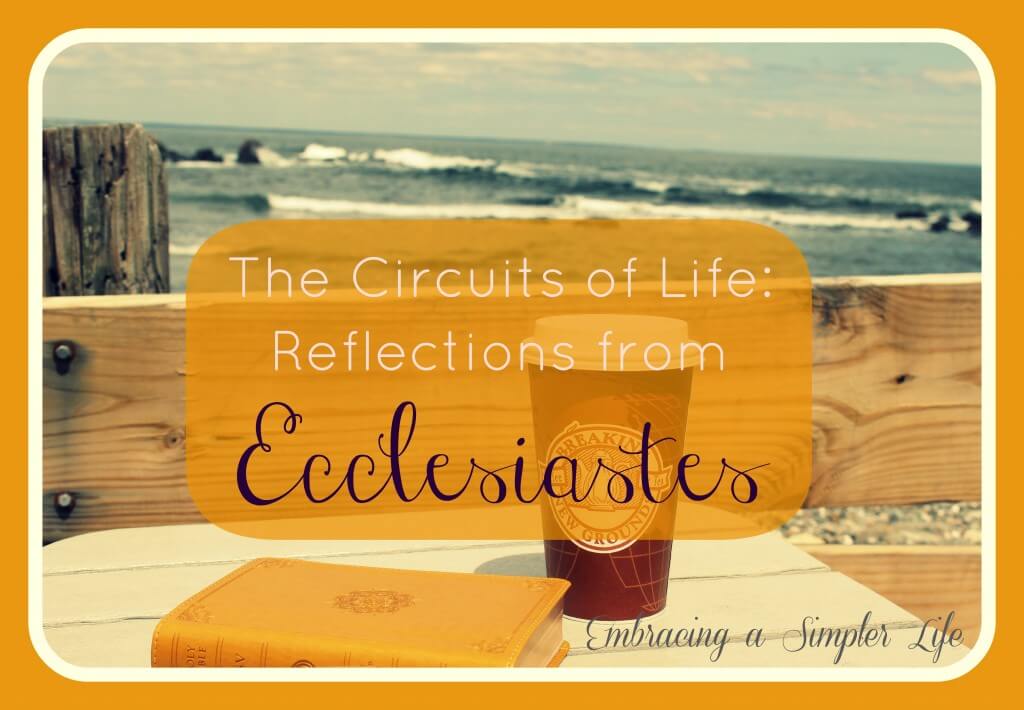 For me the one word that best captures the heart of Ecclesiastes is "perspective." Just reading a few paragraphs refreshes my soul and fills me with a renewed sense of purpose and vision for life! The premise of Ecclesiastes is that many of the things we give our lives to and fill ourselves with are empty, futile, vain, meaningless…
In the first chapter Solomon writes, "All is vanity. What does man gain by all the toil at which he toils under the sun?" [verses 2b &3] Again he says, "All things are full of weariness; a man cannot utter it. The eye is not satisfied with seeing nor the ear filled with hearing." [verse 8] And then toward the end of the first chapter he says, "I have seen everything that is done under the sun, and behold, all is vanity and a striving after wind." [verse 14]
As I "sit in" these words, I'm met with some very challenging truths. One of the biggest ones is how easily I get distracted by toiling after that which is empty.
In chapter 1 Solomon also writes, "The sun rises, and the sun goes down, and hastens to the place where it rises. The wind blows to the south and goes around to the north; around and around goes the wind, and on its circuits the wind returns. All streams run to the sea, but the sea is not full; to the place where the streams flow, there they flow again." [vrs 5-7]
As I read this, I picture the wind blowing back and forth or the sun rising and setting each day, but I also see tasks I repeatedly do like making dinner, laundry, picking up my daughter's toys and dishes as a continuous circuit in my life. I'm not in any way suggesting that these things are bad or that we shouldn't do them. Instead I find myself reminded that these tasks will always be there; they will repeat themselves in various forms for the rest of my life. They are never complete [not truly]. I believe the challenge is to not ignore the tasks, but to reevaluate the way I see them in my heart…the value I give them in my life. They should never be my ultimate priority nor should I allow them to define me.
I can become so consumed by making my "circuit" that I cease to find delight in the everyday moments. In fact I can find myself resentful or discontent at the end of a day if I've lost perspective. How should I spend the hour before the women I'm discipling (spiritually mentoring) arrive at my house? Do I really "have" to make sure my house is pristine or would it be better to spend it in God's presence? When my daughter asks to play dress up for the afternoon, do I "need" to work through my ever-growing "to do" list or is the real need to recognize the gift of the moment and happily say yes?
Solomon goes on to write, "I perceived that there is nothing better for them than to be joyful and to do good as long as they live; also that everyone should eat and drink and take pleasure in all his toil—this is God's gift to man.  I perceived that whatever God does endures forever; nothing can be added to it, nor anything taken from it. God has done it, so that people fear before him." [Ecclesiastes 3:12-14]
Solomon isn't promoting a godless, hedonistic lifestyle here. This is clear in the way he pairs these two wise thoughts together: we should be joyful and take pleasure in our toil while at the same time fearing [and obeying] God in all His greatness and power. This is my prayer for the summer! Instead of being exhausted by setting my heart upon the empty things I toil after, I pray that I'd place my hope FULLY on God's goodness and enjoy the incredible blessings He's given me. And as I do the everyday tasks that I will inevitably do, I long to approach them with joy and guided by perspective about what has lasting value. I also pray that YOU would join me on this journey…